Right click image to enlarge.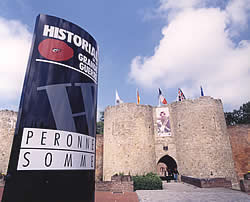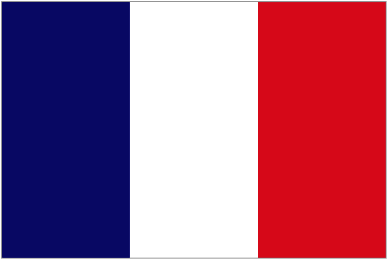 1992 - Historial de la Grande Guerre / Museum of the Great War, Péronne (France). "Near the heart of the Somme battlefields. Looks mostly at WW-I & the years just before & just after. Strives to place war in a social context, stressing 'the common suffering of the combatants' & 'the civilians, who were equally mobilised by the war effort.' Additionally, it has two major permanent specialist exhibits: Prisoners of War & Children in World War I."
| | |
| --- | --- |
| | June 1993 - "Symmetry" (Wilfred Owen Memorial), Shrewsbury Abbey Foregate, Shrewsbury, Shropshire (England). Sculpture by Paul de Monchaux. Inscribed "I am the enemy you killed, my friend" from "Strange Meeting." "Wilfred Owen [1893-1918] [is] best known for his angry poetry on the supposed nobility and glory of war. But while he was compassionate to those around him, he was not self-pitying and earned the Military Cross for his bravery... [He] was killed leading his men across the Sambre-Oise canal in northern France just seven days before the peace was signed." One of 13 sites on the MAW Peace Map of the British Isles as of January 2009. |
P
A
R
K

November 11, 1998 - Páirc Síochána d'Oileán na h'Éireann / Island of Ireland Peace Park, Mesen / Messines, near Ypres, Flanders (Belgium). A a war memorial to the soldiers of the island of Ireland who died, were wounded or are missing from World War I. Includes the Irish Peace Tower, a symbolic Irish round tower.

B
E
L
L

November 11, 1998 - Northern Ireland Peace Bell, Páirc Síochána d'Oileán na h'Éireann / Island of Ireland Peace Park, Mesen / Messines, near Ypres, Flanders (Belgium).
C
R
O
S
S

1999 - Christmas Truce Cross, Ploegstreert Wood, Ypres (Belgium). The text reads, "1914 The Khaki Chum's Christmas Truce." In 1999, the Christmas Truce of 1914 was commemorated by a small group of re-enactors who, after spending a few nights in makeshift trenches in the area near Ploegstreert Wood, left behind a wooden cross. That cross has since been fortified with a cement base by some of the local people and now stands as the only monument to the Christmas Truce of 1914. This is a sad commentary on how governments build many monuments supposedly to honor military veterans, but somehow seem to do so in ways that glorify war."
G
A
R
D
E
N

2002 - Peace Garden, Epiphany Chapel & Church House, Odenton, Maryland (USA). Honors the 2,929 military chaplains who served in World War I. "'The garden is a crowning tribute to the faith and courage of chaplains who served the needs of more than 100,000 men and women that passed through Camp Meade [now Fort Meade] on their way to the trenches in France,' said the Rev. Phebe McPherson, rector at the chapel for 22 years. The garden, with benches and five bronze plaques bearing the names of every World War I chaplain, is located under shade trees by the chapel's front door." One of 100 "sacred spaces" created by the TKF Foundation 1996-2008.
| | |
| --- | --- |
| | Summer 2010 - New stainless steel markers at graves of the "Alcatraz Martyrs," Friedhof/Cemetery, Rockport Colony (Hutterite), Hanson County, South Dakoka (USA). 18 miles from Alexandria, SD. Hutterites Joseph Hofer [1894-1918] & Michael Hofer [1893-1918] died as a result of "persecution [in Alcatraz & Leavenworth prisons] for their religious beliefs during World War I, in an era before alternative service was effectively implemented for conscientious objectors... The deaths of the brothers were a main catalyst for the mass movement of Hutterites [from the USA] to Canada." See books by Joanita Kant (2011) & Duane Stolzfus (2013). |
| | |
| --- | --- |
| | May 26, 2014 - "Swords to Plowshares" memorial, Raleigh, North Carolina (USA). Also called "a mobile Armistice Bell Tower & 'Swords to Plowshares' Peoples History Exhibit." /// "...a 24-foot tower made of recycled metal, a rolling hat-tip to all victims of war... It stands temporarily alongside the N.C. State University Memorial Belltower, manned 24 hours a day. Roger Ehrlich & [the] Veterans for Peace, hope visitors will remember that this year marks the 100th anniversary of the start of World War I, the 'war to end all wars.' It killed 16 million people, introducing the world to chemical warfare, flamethrowers & tanks. The Wolfpack Belltower itself was built [in 1937] to honor those veterans, and this dedication appears on its side: 'In memory of those who served their country in the world war.' On the tower's door, it reads, 'and they shall beat their swords into plowshares...' The [mobile] monument will travel to the Veterans for Peace convention in Asheville in July 2014." /// Includes bell forged with the date 1886 in Hillsboro, Ohio, & discovered at the construction site of the Church of Reconciliation in Chapel Hill, NC. /// Information courtesy of Roger Ehrlich, Cary, NC. |
| | |
| --- | --- |
| | December 12, 2014 - "Football Remembers," National Memorial Arboretum, Staffordshire (England). "A memorial to the World War One Christmas Truce, when some British & German soldiers stopped fighting & played football, has been dedicated by the Duke of Cambridge. The memorial was designed by 10-year-old Spencer Turner from Farne Primary in Newcastle after a UK-wide competition." /// "The Duke of Cambridge & England forward Theo Walcott picked out the memorial's design from thousands of entries in a competition held in schools throughout the UK. Prince William told guests attending the dedication ceremony: 'We all grew up with the story of soldiers from both sides putting down their arms to meet in no man's land on Christmas Day 1914 – when gunfire remarkably gave way to gifts. It remains wholly relevant today as a message of hope and humanity, even in the bleakest of times. Football, then as now, had the power to bring people together and break down barriers.'" |
Please email your comments & questions to geovisual at comcast.net. Thank you.